I am finally finished with my chalk wall in my son's playroom!! I painted a house on the playroom wall with
Rustoleum
chalk board paint in 3 different colors! When we moved in there was a small wooden piece on this wall covering our sewer clean-out valve. So I replaced this with a "door".
I started with the deep blue
Restoleum
chalk board paint. Here you can see the wooden board covering the sewer clean-out.
After 3 coats, I taped off the roof line, and painted the house green, again with 3 coats.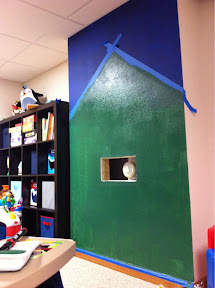 I had 2 pieces of
MDF
cut from Home Depot for the back of the door, and a door that opens - since my son LOVES to open and close things! I painted both pieces of
MDF
with
Rustoleum
Moonstruck.
I then taped off the roof line and chimney and painted it with
Rustoleum
Moonstruck chalk board paint. I spent a significant time measuring our the roof lines and the chimney and used a level to make sure everything was straight!
Done with the chalk paint!
Painting my outside door, I decided to add trim to the door, which I found at the Home Depot. I could not decide what color to paint the door. At first I was going to make it a chalk board again, but I could not decide on the color. So it has a few coats of paint on it!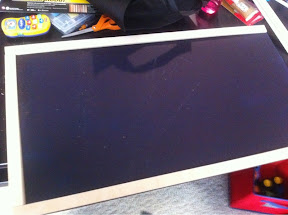 I was very excited when I found the new Martha Stewart crafts at Michael's and the magnetic paint!! I was a bit skeptical about it at first. I liked that it was water based and did not smell! Compared to other magnetic paint I have seen! I used a plastic knife to stir it, since its really thick!
I ended up giving the board 3 coats of the magnetic paint.
My first coat I put on way too thick! As I said I was skeptical about it, so I thought a thicker coat would be better! But nope, the thick coat cracked. So highly recommend thin coats!!!
I also did not wait long enough for my thick layer to dry, so it smudged a bit. After my first bad coat, I waited much longer to put on my 2
nd
and 3rd coats.
After 24 hours I then applied a Martha Stewart paint in
Habenero
, after testing the paint out to see if it really worked. And to my surprise it works!!!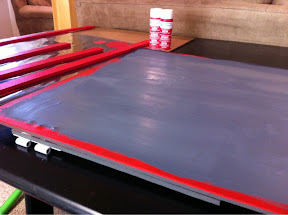 Do my finished chalk board wall, with a magnetic door!
I am so excited that the magnetic paint worked! I loved that it was easy to work with, and did not smell bad!