Every August 14, college students move out of their old college apartments and into their new apartments, so this year we participated in "hippie Christmas" as its called by some, and drove around the campus area and picked up a few free things. We got 2 chairs and I finally got around to fixing it up! Here is the before with the torn fabric.
I spray painted the chair with a Krylon gray spray paint! No pictures of this step, since its pretty straight forward!!
I then upholstered the front and back sections of the chair, again, pretty easy! I have never used cording before, so that was a new challenge for me. But it was actually pretty easy. I used the cording that was already in the chair and worked my way around the outside of the chair, saving the corners for last. That seemed to work out for me.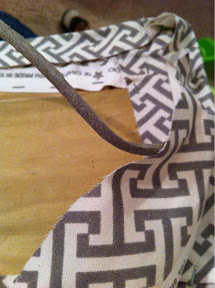 I stapled close to the edge and pulled it tight.
Attaching the front and back to the chair took a little longer than I thought since I could not find the right screws for it. But once I found the correct screws it went together very easily.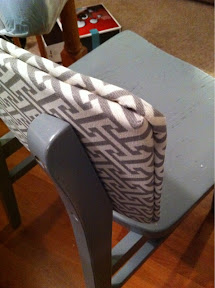 The finished chair!
I am going to use this for my little man's booster seat since our dinning room chairs are upholstered and this will be easier to clean up.
This free chair turned out pretty nice!