One of my most FABULOUS and AWESOME Craig's List finds were 4 brand new bar stools that were un-assembled for ONLY $50!! For all 4! (Seriously might be my best CL deal so far!!!) Target sells ONE similar chair for $70! And these were from a furniture store, but the original owner only wanted the table and it came as a set. So lucky me I am the owner of the 4 new chairs!
When I first bought them I knew I was going to upholster them (they came with a hard wooden seat) and originally I was going to paint them black. I decided not to paint them and am very glad I did not, I like the color as is - plus less work!
Once I had the chairs assembled, I had the very difficult choice of picking which fabric to use! I was debating between 3 fabulous patterns I got while in New York at Mood! (Seriously I want to go back to New York just to go to Mood!!! Such a fun store!!!!) I decided on the pretty grey fabric (the others will be around at some point... just need to figure out one what!!!)
I purchased 2 inch foam square cushions from Joann Fabrics. I debated on the 1 inch but thought that seemed too thin and ended up with the 2 inch. At first it looked like 2 inches was going to be too thick, but I think they turned out great.
I used one square per chair and had some help cutting them out!
Little man had to make sure they were going to be comfortable enough... it is important to test out your hard work before you put in all of the hard work!!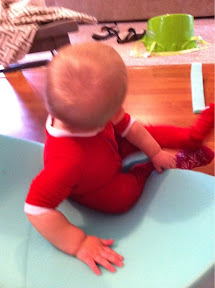 I traced around the seat with a sharpie and used a fabulous orange handled scissors to cut right through the 2 inch foam.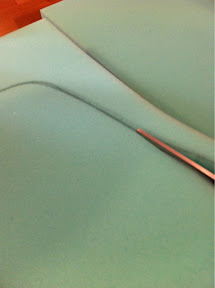 The most important step I did (I don't have a picture of) was to cut a small amount off of the top of the foam at an angle so the seat was not so square looking when covered. I was not neat about it and once the fabric was on and stapled down you could not tell that I was not neat, but it does help to make the upholstery look like it was meant to be there and not something I added on at the last minute! (You can see the curved edge in the final pictures!)
I then found my staple gun and stapled the fabric to the chair pulling the fabric tight without stretching the fabric "pattern." I also had help on this step! But this time little man thought it was fun to jump off of the chair seat.... I guess the extra foam gave him more lift...
I made sure to do my front corner the same on each chair so they would look consistent - the back on mine did not matter as much because that part was screwed into the base!