I am so excited, I just finished two Christmas pillows!
The pillow on the right was inspired by the
Crate and Barrel pillow
.
I started by cutting 3 inch circles form about a 1/2 a yard of green felt fabric. I decided to only do one shade of green for my version.
I cut a tree shape out of felt, and used the fabulous tutorials all over the web folding the circle into forth and then put one stitch through it and then into the tree shaped background.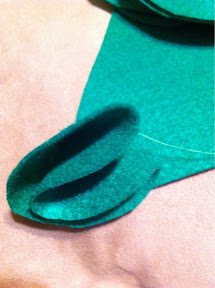 I then continued this about a hundred times!!
Until I had covered the entire tree.
I then used white fabric to sew a pillow. I like to make my pillows with the envelope closure so I can easily change my pillow cases out. I then hand sewed the tree to my pillow. This was a little harder than I thought because I had to be careful I did not sew through bother layers of the pillow. The inside of this pillow is very messy, but it's the inside, so it does not matter!
The back of the pillow.
I also made another pillow that I pined on Pinterest a while back. The original pin was
Quiltish
but I found it from the blog:
inspired honey bee
. I love how this pillow turned out. Even though I am not good at using Wonder Under, I used it and then used my sewing machine to outline the trees to the pillow.
Both of my pillows! Love them!