I love Red Envelope for their unique gifts. I have bought and received my share of things from Red Envelope but recently when exploring their website I came across their personalized canvas art work starting at $120. While I would have no problem purchasing a personalized canvas for that price but these are SO simple looking that I figured I could easily make them myself for a fraction of the price.
I LOVED the state canvas! So cool! But so easy to make! (For some reason this was really hard to photograph - the state looks pink.... it's not, it's white!!!)
I used my Silhouette Cameo to make state of Wisconsin and the text.
I searched the internet for a state of Wisconsin image and I found a pretty simple one. If you can't find a simple shape you can use the directions I used for making a
silhouette of my son in photoshop
.
To cut the state shape with the Silhouette, I saved my image as a JPG and opened it in Silhouette studio. In the trace menu I selected my entire image with the "select trace area" and then selected "trace outer edge." I then re-sized mine to be about 12x12 since I was using a 16x20inch canvas. Then it was off to the cutting machine!
I then transferred the state and words to the canvas.
I then piled on the white paint to try and seal the vinyl to the canvas. I actually did two light coats and it did NOT bled.
I then painted several layers of Martha Stewart's Surf craft paint.
I did let it dry over night so it was good and dry. I know some remove the vinyl when wet, but I figured it would be easier to remove the large state image when dry since its so large! I was so nervous pealing the letters off!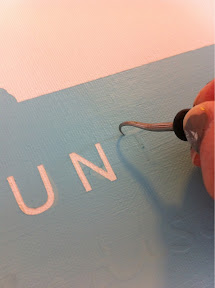 But it turned out GREAT! I love it! I love the detail that the Silhouette cut out for the state border!
I think it turned out great! Here is the original from
Red Envelope
for $120!
While browsing the
Red Envelope
site I came across this pretty canvas that will go well in my guest bedroom! Again $120!
Well here is my version. So simple I just used my Silhouette again. And this canvas I have had for about 5 years and re-painted over it the dark gray not knowing what I would use it for! So this was a pretty near free project for me! This canvas is about 15x30 inches and I love how large the canvas is and how there is so much extra space on the top and bottom!