A few weeks my 6 year old niece was over and was very interested in my
DIY jewelry storage
I made for myself and since she is very into the "I want to be a big girl" I thought I could make her own jewelry storage for Christmas.
I found this awesome white and pink frame at Good Will, even though it was on the expensive side for Good Will, I knew it would be a perfect frame for this project! It started a little too pink for my big girl niece, so I painted the frame a nice sky blue.
I made my niece a french memory board for her birthday at that point she said her favorite colors were blue, purple and pink in that order, so I used blue and purple on her memory board. I had some left over purple fabric left from that project so I used that on this one. I wanted a little more design to it, so I used Martha Stewart craft paint for the first time on fabric. (I was spray painting before this picture was taken, and made a mess on my hand!)
The fabric paint looks a little taupe but it's actually a dark gray.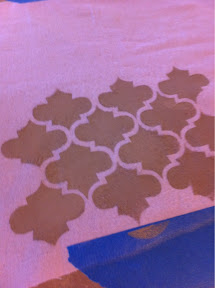 To get the placement of my silver metal hooks, I screwed them in on the backside onto a grid I drew on the cardboard. This helped me get them centered and in the right place!
With the hooks still on the wrong side, I hot glued my new fabric onto the board. Once on, I poked the hooks through the new fabric and switched them to the right side. It made my life much easier! Then I added some felt to the back and we are done!
I love this frame! And I hope my niece likes it too!