I am in the process of decorating my son's play room in bright primary colors. When we moved into our new house, the previous owners left a slightly boring table and chair set (for some reason there were only 3 chairs). Figuring I had nothing to loose, I had fun with the spray paint!! I LOVE how it turned out and I think it looks great in the soon to be finished bright primary color play room!
I did not take a picture of the whole set, but here is a before of one of the chairs. Some of them were in better shape than others. There were a few paint splatters on the chairs as well.
I primed the chairs. At one point I was thinking of painting all of the chairs white and painting the table a bright color.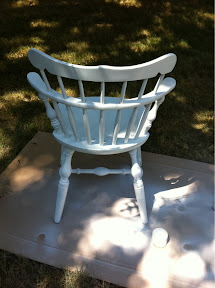 I love how bright and happy the chairs turned out!


I forgot to take a before of the table, but you get the point. I primed the table and gave it a nice coat of bright blue!

I am so happy with how the table and chairs turned out! I can't wait to be done with the entire play room! It's going to be a fun and bright place for my son to play!