In order to try and keep my son's playroom as organized as possible, I bought several canvas totes from Target that were pretty boring. So I decided to make little chalkboard (my latest obsession!!!!) labels for them. Super easy and now we have an organized (for now) toy room!
At Micheal's I bought little wooden boards meant for flags for 29 cents a piece!
I gave them 2 coats of Rustoleam Moonstruck Chalkboard paint!
Ready to attach my chalkboard tags to the canvas. My first time using Liquid Nails!!
A nice drizzle of Liquid Nails.
Just placed them on and let them dry!
The finished product.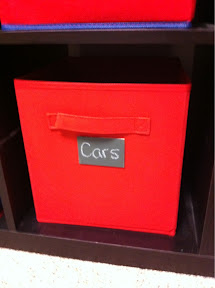 So organized! All of my canvas totes in our IKEA LACK shelf.