I have been making a ton of little hot chocolate gifts for myself, my mom and mother in law to give as gifts. It was so fun, I think I might have gotten a bit carried away! But that's ok, who doesn't love chocolate on a spoon!!
These chocolate spoon were so easy to make. Just pour a little chocolate into the spoon, add your candy decoration and let them harden! I found that the spoon needed to be elevated a bit on the end to dry the best, so I used scrabble tiles, because they were right there, I also used a plate upside down, and that worked out well too. I found m&m's worked well, candy canes crumbled also worked well. I crumbled up candy cane hersey kisses and those melted into the chocolate, so I didn't use them on many.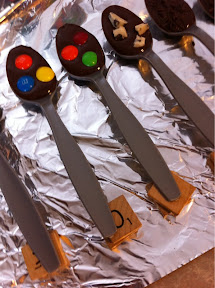 More spoons with the plate support...
I was also a marshmallow dipping fool!
Yum! Lot's of chocolate dipped Marshmallows!!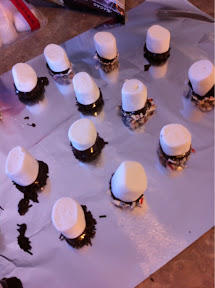 The finished product. I made two versions! The first had 4 packets of coco in it. We used Nestle and I liked how it said "Warming Chocolate Moments" on the front of it. That added a nice touch. Four spoons, several marshmallows covered in chocolate and a small bottle of Bailey's!!


These were packaged in a small red box and turned out great!


The smaller individual serving gift included one pack of hot chocolate mix, one spoon, and two marshmallows. I love how these turned out!