Last week I promised my finished first silhouette project. It was so much more difficult than I thought it would be. I follow lots of bloggers who frequently post about their Silhouette so I thought it would be easy and fast to use. While I do still really like my Cameo, it just is a lot harder to use than I thoguht it would be!
So I cut on vinly the saying "Have yourself a merry little Christmas" to paint onto a canvas board. This part was the most fustrating part, but I finally was able to cut the saying out of a couple cutting sessions...
I transfered the vinyl onto the transfer paper. This part seemed easy enough...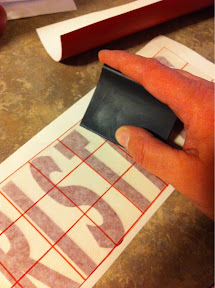 And the vinyl did stay attached to the transfer paper!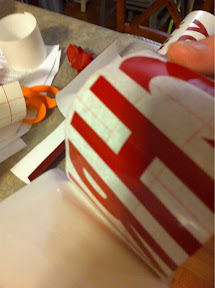 Rubbing it back onto my surface was a bit harder than I thought it would be. I had to use the tool to hold the vinyl onto the canvas board to get it to stay down as I pulled the transfer paper back.
After the very slow process, I was finally able to align all of the letters onto the canvas board. It looks so pretty like this, I maybe should have just left it like this!!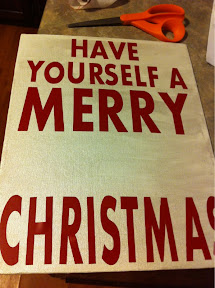 I made two copies of this canvas. The second time I used the white back ground paint to paint over the letters first to try and take care of any seepage... it didn't help.... and actally worked better on my first version... of well! I used Martha Stewart paints and the sponge brush.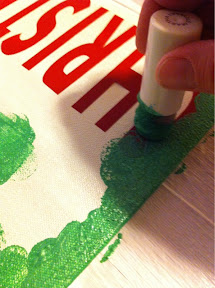 Loving the first part of the canvas!
Onto the second part!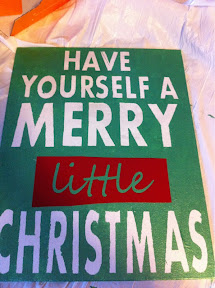 Red glitter paint for the word "little" from the Martha Stewart line. The glitter paint was a little hard to paint over the green paint, but the sponge seemed to help, and after 3 coats we had a nice finished product.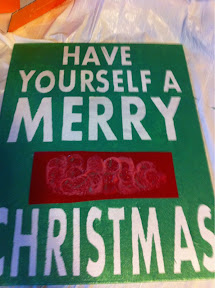 The finished product!! I am very happy with how it turned out! I thought it would be easier than it really was, but I can't wait for my next project.