Last week I showed the gift I made for my 6 year old niece, this week I am showing the gift I made for her younger sister, our 3 year old niece. I also found this frame at Good Will, and of course I did not take a before picture, but it was in bad shape! I spray painted the frame gray, and used my Rust-o-leum chalk board paint in teal to paint the background board. Since this is for a 3 year old girl, I trimmed the outline of the frame in pink, because what 3 year old does not love pink! I then used my Silhouette to stencil her name on the bottom of the frame!
Used my Martha Stewart stencils to add some blue flowers and one beautiful blue butterfly!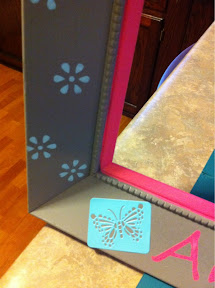 I attached the background to the frame, added felt to the back and was done! I decided not to add any hanging hardware because I am not sure how she will want to use it!
When I was photoing the finished product, my little man decided he needed to write Merry Christmas on the board as well! He was having lots of fun drawing on it, so I hope our niece will like it just as much!