I added to my home decor my first chevron piece! I created a chevron pillow with fabric and white grosgrain ribbon and I love how it turned out!
I was not sure how long this would take to make and it was my second project with my new sewing machine that I am still trying to figure out. It took less than 2 hours and would have taken less had I not had issues with my sewing machine (still not sure if its the machine or user error :) )
My pillow ended up being a 16 x 16 inch square pillow.
I first started by measuring and marking my ribbon every 4 inches, to account for the seam allowance I did the first one in 4.25 inches - which I really would not have had to do, but I did. (Do you like my snowman PJs in the picture :) )
I decided to sew the ribbon every 2 inches for a total of 8 rows.
For my first row I used tape to mark the top and to mark the bottom (I added an extra .5 inches on the bottom again for seam allowance.) For the remaining rows I did not use the tape as it was not necessary and made the edges tear a bit.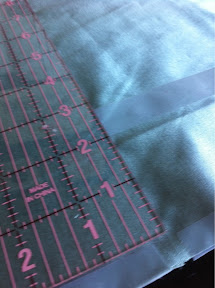 Originally with adding the tape I thought I would not have to pin the ribbon, but after I started putting it together I found the tape was not needed, but the pins were a must! Much easier!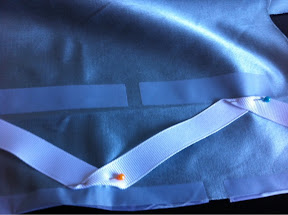 Time to sew! I sewed right down the middle of the ribbon (or as close to center as possible! - I'm a new sewer!!)
For the second plus rows, I used my acrylic ruler and placed it 2 inches above the starting point of the first line and sort of eyeballed where the ribbon should go, using the first row for the bottom points. I found it worked best to pin a row and sew it before pinning the next row.
More sewing! I found the easiest way to sew the angle change was to make sure the needle was down in the fabric, lift the foot up and turn the fabric with the needle down in the fabric. I am sure this is a basic sewing concept, but I am a new sewer!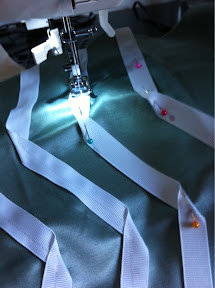 8 rows later, the front of the pillow is complete!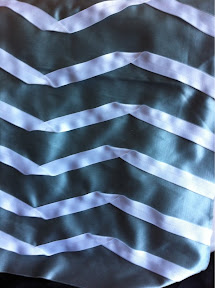 I then sewed a basic envelope pillow.
Finished product! Love it in person!!
It looks great in my master bedroom. Here it's sitting on top of the first pillows I made with my new sewing machine. I might make too many pillows.... can you have too many pillows?